For a lot of you "old-timers" you may have already seen a similar "post" when I used to do this via email. The topic, however, was worth re-mentioning on a more permanent & global manner.
Printers may be getting cheaper, but the ink now comes in smaller and smaller containers while the price is either the same or even heading in the wrong direction (going up). The below tip should help you save some paper, some ink, a small portion of the World and hopefully some green (no pun intended) for yourself or company. Yes, you can make this
your
suggestion, and become your company's fiscal hero.
Printing Web Pages
Most would agree that web page printouts end up in the can. You'll use it for a meeting, a day or two and then you're done. Granted, some have a longer shelf-life, but those are not the focus of this tip; although they can be.
If you're not already, you should always seek out the print link/button on a web page. Many of the web sites, especially the newspapers/periodicals, have them. The image to the side shows an LA Times article and you see the "print" link on the right.
This print function cleans much of the page for you, and even sets margins accordingly. This alone should save you on paper. Although many sites now don't do as good of a job cleaning up the page for printing as they could.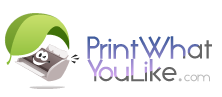 That's where
PrintWhatYouLike
comes in.
PrintWhatYouLike is a free online editor that lets you format any web page for printing in seconds!
Basically, it's a simple point-and-click element removal tool to make printing sites and pages much easier, and without any software. That's right, there is nothing to download- everything runs in your browser, and it takes just a few clicks to remove the elements you don't want printed. Feel free to have a go at it as all changes are undoable. You can even combine multiple web pages together - edit and print them as one document!
Simply paste in the URL of a site, and you'll get a left-hand sidebar that lets you click and remove pictures, headlines, and other page elements. You can pull out the background image, isolate selected parts of the page, and even resize individual elements, all in the name of reducing ink usage and improving readability.

And while you can go to
PrintWhatYouLike
directly and past that URL, there's now
PrintWhatYouWant Bookmarklet
that simplifies that act. Simply drag the bookmarlet link to your toolbar, and now you can include the editor on any page with a single click. Need help with the bookmarklet?
Click here
.
Change Your Font
Folks this alone can save you up to 20% less ink. You can take this to your boss
now
!
Ecofont
is a project to optimize fonts for printing, without sacrificing readability.
Appealing ideas are often simple: how much of a letter can be removed while maintaining readability? After extensive testing with all kinds of shapes, the best results were achieved using small circles. After lots of late hours (and coffee) this resulted in a font that uses up to 20% less ink.
It's free to
download
, and free for personal use. For professional use, see
this
.
I personally use it. Its readability impact is minimal, and I still feel good about not wasting ink and playing a small role in helping the environment.
When I combine
both
ecofont and PrintWhatYouLike I know I'm making a difference to the environment and in personal savings.
Got other earth-saving and frugal digital/tech tips, please share them with everyone in the comments.